Papaya Health Benefits For Optimum Health

One of the most widely sought after fruit, Papaya with its sweet taste provides a variety of nutrients. It helps to protect against colon cancer, and promotes cardiovascular health.
This fruit is also known for its digestive benefits, and rich in antioxidants, fiber, vitamin k, vitamin E, also a source of folate, potassium, and fiber.
A Bit of its History
Originally, the fruit is from Mexico and the Antilles where it is found to even grow wild. Later on, the cultivation of this tropical fruit has grown throughout the world basically in the tropical areas. 

In the year 1492 Christopher Columbus sailed to the islands of Cuba and Hispaniola ( These were newly discovered Islands. Later on they were given new names such as; Santo Domingo. This voyage had open up a whole new world as described by the explorers.
The explorers noticed and said that the natives there would "eat all the meat and fish with not ill effect as long as they end their meal with a piece of fruit.

In essence they were saying it aids digestion which now coincides with modern research that states that it contains enzymes that aids digestion.

It contains small amount of enzyme that is capable of digesting 200 time its own in protein.
The explores investigated this fruit and discovered that the natives named this fruit "Vanti" which was interpreted as "Feel Good."

Papaya is 88.8% water, which is almost as much as melon (92%).  The melon and papaya belong to well know botanical families but they both have different characteristics.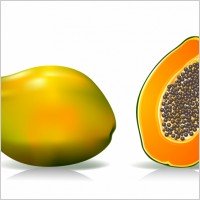 Papaya for health benefits
The energy producing nutrients content is highly reduced in carbohydrates (8%), proteins (0.61%) and fats (0.14%). It is said that most of its carbohydrate are formed from sugar; saccharose, glucose, and fructose.

The vitamin content is noticeable: with 100g of pulp it provides 103% of the RDA of vitamin C and 18% of vitamin A recommended for an adult.

Also present in small amounts are the B vitamins with the exception of folates, with 38% mg/100 g, which is as much as the mango or also the feijoa, that contain the richest substances in theses fresh fruits.
Potassium is rich in this fruit where Minerals are concerned, (257 ug/100 g, with also a very significant amounts of calcium, magnesium, phosphorus, and iron. Pectin which is a soluble fire, amounts to 1.8%.
It is noted that 106 volatile chemical substances have been found in the pulp of this fruit that is said to be responsible for its aroma, by using sophisticated methods of chemical analysis. 

Health Nutrition Benefits from raw fruits and vegetables juice promote health on longevity.
 Health Benefits That Promote Health And Longevity
For people with skin disorders, such as eczema, acne, and furunculosis, papaya is said to be a part of their diets that being suggested due to the high percentage of pro-vitamin A.
Some times people encounter indigestion and as a result Papaya is recommended in this situation of difficult digestion, gastric ptosis (gastric prolapse), gastritis, and is also recommended when inflammation affected digestion of the gastric mucosa.

It is found out that the sap of the papaya or its latex as it is referred to, and also the pulp which is to a lesser degree contain the properties of anthelminthic and vermifuge that fight against intestinal parasites such as tenia, or otherwise called tapeworm.
The power enzymes and nutrients of this delicious fruit helps to neutral gastric acid. It is also of great benefits as a result of gastroduodenal ulcer, hiatal hernia, and pyrosis often referred to as heartburn.

How To Prepare And Use The fruit

It is best to eat when fresh.  This fruit is mainly sold in non-tropical countries and is normally picked from the tree while still in its green state.
based on the fact that this fruit is perishable it cannot be shipped when it is ripen, as a result it is shipped and transported in its green state.
However, during its passage,  they lose some of their quality and flavor. This fruit is known to make exceptionally, superior,  and one of the finest  breakfast, and also dessert. When lemon juice is added it also make a perfectly delicious lettuce salad.
It is noted that papaya jam is a very popular dessert in the American tropics. It makes refreshing soft drinks, shakes and ice cream. 
The fruit is canned and shipped around the world making it possible for people to enjoy this excellent nutritious fruit with exceptional health benefits.
Thank You For Reading!

Do You Like What You Just Read?
It is my intention to spread the good news far and wide about " Health Nutrition for wellness " If you really like what you just read, then please join me in my effort to inform and educate the world. Your social media of choice proves the option to do so. You can also ask others to help spread the word.
By Using An Extractor You Will Discover:
1. The Power of Cellular Health Nutrition for wellness is the Life-Line to Optimum Health.
2. How To Use Raw Fruits And Vegetables As Natural Healing Foods For Ultimate Health.
3. How to take control of your health using Natural Healing foods for health and wellness