Blueberries Health Benefits
Blueberries health benefits contain a high source of anti-inflammatory and cancer-fighting chemicals. They are also very high in fiber, and many micro nutrients such as vitamin c, manganese, and and vitamin K.
It is imperative to maintain a constant supply of its Health Nutrition Benefits as an agent to protect the body from absorbing environmental toxins and free radicals.
These health hazards after invading the body can cause the immune system to break down and as a result renders it incapable of protecting the entire body.
It is an exotic fruit with a large amount of vitamin C and is also packed with antioxidant. These properties support the immune system which intern builds strong resistance that protect the body from disease that would otherwise invade the it.

Blueberries May Help To Lower Blood Pressure

 Research Study

According to a research study conducted by the (Florida State University) on blueberries, found out that by "consuming it everyday may help lower systolic and diastolic blood pressure in just eight weeks."
The study was carried out on 48 postmenopausal women ranges from ages 45 to 65 with high blood pressure.
The study reveals that "Half of the fifty percent (50%) of the women ate 22 grams of freeze-dried blueberry powder which is the equivalent of one cup of blueberries each day for 8 weeks.
The study further shows that "The other fifty percent of the women participating in the study consumed a placebo that looked and tasted the same as the blueberry powder but did not contain any of the nutritional content" (Florida State University).

The research also found that "after eight weeks the participants who ate the daily dose on a collective basis, had a systolic blood pressure that was lower by 5.1 percent and a mean diastolic blood pressure that was lower by 6.3 percent"  (Florida State University).

In addition the research further states that "The group that ate the blueberries, experienced a significant higher levels of nitric oxide, which is known to relax and widen blood vessels. It shows that the controlled group did not see any changes in their blood pressure or in their nitric oxide levels."
The researchers further state that "even though these changes are not as significant from blood pressure medication perspective, the research shows that "the effect from the fruit could be the right treatment alternative or option for a person with an early-stage of hypertension and who wants to make a change in both their lifestyle and diet in order to control the disease.

According to (Sarah Johnson; postdoctoral, and lead researcher; Florida State University) "There is something very special about the composition of blueberries that is responsible for their effect on blood pressure. Other fruits and plant extracts have not produced the same result."
Blueberries Are Packed With Antioxidants
This delicious fruit contains powerful antioxidant properties which can neutralize free radicals that is said to be associated with the development of cancer, and other age-related diseases.   
Its antioxidant is also known for neutralizing free radicals that is linked to cardiovascular disease. It is low in fat and accounts for about 80 calories per cup  which supply a good amount of fiber that can make you feel fuller and also longer.

A small amount such as a handful or cup full can provide you with your daily requirement. Manganese supply the nutrients for bone development in your body, it is also known for converting carbohydrates and fats into energy which the body needs to function effectively.
A Good Source Of Vitamin C
You can obtain your daily value of vitamin C of about 25% from one serving. This helps with the formation of collagen, also it promotes the    

This fruit contains tons of vitamin C; one serving gives you almost 25 percent of your daily value. Vitamin C is essential because it helps with the formation of collagen and also promotes healthy gums.
The entire body and its organ depend on the immune system to protect it from all the harmful toxins that are released in the environments. As a result the immune system must be fed and kept at optimum health.  Vitamin C therefore plays a vital role by keeping the immune system healthy.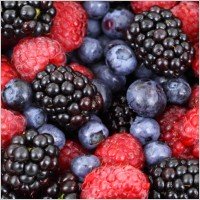 Blueberries
The Journal of Orthomolecular Medicine, states that "there are about 14 milligrams of vitamin C per cup."  It further states that "Vitamin C reduces intraocular pressure, which decreases the potential for developing glaucoma, which refers to various eye conditions that damage the optic nerve - which is the second most common cause of blindness in the United States.
Health Benefits That Improve Heart Health

it is said that cardiovascular disease is currently the leading cause of death in the United States which has become a public health major concern both in men and women.
There are some basic common conditions associated with it, that lead to the increased risk of this disease, such as; obesity, high blood pressure, and high blood sugar that is also related to diabetes.

There are fruits that contain high content of anthocyanins which are part of a sub-class of flavonoids. It is said that Anthocyanins may be able to help to counter plaque buildup that could improve cardiovascular health. 

Especially in women, recent studies have suggested that strawberries, blueberries and other berries, could reduce the risk of heart disease in women, based on the fact that they contain a high content of Anthocyanins.
Study further indicates that the risk of heart disease could be reduced in women who eat three or more servings per week of these berries.
Health Benefits That Help To Reduce The Risk Of Cancer

A study  was conducted by (University Of Illinois, Urbana, Champaign) suggested that "Anthocyanins may help attack cancer-causing free radicals and even could possibly block tumor cells from developing."

Even though the research is continuing, according to the researchers, the scientists have found evidence to suggest that "blueberries are a potential therapeutic agent for early stage prostate cancer or a possible means of prostate cancer prevention."
---
Thank You For Reading!

Do You Like What You Just Read?
It is my intention to spread the good news far and wide about " Health Nutrition for wellness " If you really like what you just read, then please join me in my effort to inform and educate the world. Your social media of choice proves the option to do so. You can also ask others to help spread the word.
By Using An Extractor You Will Discover:
1. The Power of Cellular Health Nutrition for wellness is the Life-Line to Optimum Health.
2. How To Use Raw Fruits And Vegetables As Natural Healing Foods For Ultimate Health.
3. How to take control of your health using Natural Healing foods for health and wellness