Health Nutrition And Wellness  Privacy Policy & Disclosure Statement

The Disclosure Statement is very important to Health Nutrition For Wellness website, which is for informational purposes and provides content that will be of value and help to people who explore the site and are interested in gleaning from the information relating to fruits and vegetables to achieve health and wellness.
Disclosure statement

I am the sole owner and builder of this website and is not associated with any other business or companies. I have incorporated content from various sources including websites, articles, and books to assist people who are in quest of information on health nutrition for wellness will be able to locate the information.

The content is brought to you free of charge and it is my sincere desire that you gain the maximum benefit from the information. Your contribution and support will be highly appreciated. It cost money to maintain this website and I only receive a referral commission sometimes when someone makes a purchase.
This helps me to continuously update, maintain, and provide content that is current and up to date. My objective is to provide content that will be of value and help so people can achieve good health and maintain a healthy lifestyle through this medium that provides the information.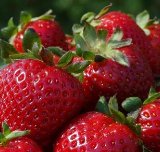 Berries banner for nutrition
The opinions and views that are expressed on this site "health Nutrition for Wellness are strictly my own. All information, statistics, claims, products, statements, relating to products or services must be referred or verified with the manufacturer or any party involved.
The products and services featured on this site are recommended based on the fact that I believe they can be of benefit to visitors visiting 'health nutrition For Wellness" website in my opinion. All products and questions should be directed and verified with the relevant company or manufacturer.   
Disclosure Statement And The Use of Cookies and Web Beacons
The use of cookies is very important when browsing and visiting websites on the internet. It is of utmost importance that you enable cookies in your web browser in order to interact with other webmaster to achieve your objective of searching the internet to find what you are looking for.
There is other information relating to enabling cookies in your browser to enhance your surfing experience in a manner that brings total satisfaction in terms of satisfaction instead of frustration that prevents you from accessing information on the internet.  I trust that this information will help you to recognize the importance and the use of cookies.

Thank You For Reading!

Do You Like What You Just Read?
It is my intention to spread the good news far and wide about " Health Nutrition for wellness " If you really like what you just read, then please join me in my effort to inform and educate the world. Your social media of choice proves the option to do so. You can also ask others to help spread the word.
By Using An Extractor You Will Discover:
1. The Power of Cellular Health Nutrition for wellness is the Life-Line to Optimum Health.
2. How To Use Raw Fruits And Vegetables As Natural Healing Foods For Ultimate Health.
3. How to take control of your health using Natural Healing foods for health and wellness